Yes, we offer conference recording and transcription services.
Recording:
Audio recording is included with all of our monthly plans. Our monthly plans start as low as $9.99/month with the Starter Plan.
Video recording is included with the Plus and Pro Plans Starting at just $24.99. Video recording captures all elements of your online meeting including audio, video, screen sharing, chat and much more.
How to record your conference:
The recording feature is easy to use. Once you start your conference simply press the recording button at the top of the toolbar, here you can select to record audio only or record the online meeting. You will know it is recording because the button will pulse.
For recording via telephone press *9. Conference call recordings stay archived in your FreeConference.com account for 30 days, regardless of how many conferences have been recorded.
Auto Transcript:
Included in all paid plans is the auto transcript service. When a conference call is recorded, a line by line transcript is automatically generated, creating a searchable record of your discussion. The transcript is securely stored in your meeting summary, along with the recording itself and other meeting content.
Can I have my calls transcribed professionally?
We've partnered with Focus Forward to provide you secure call transcription to meet any record keeping need or budget. Simply upload the desired call recording on our call transcription page, select the services you need and we'll send your transcription via email in no time.
Where to access your recordings & transcriptions after your conference:
Go to past conferences located on the main page of your account dashboard then select the conference you want to view the recording or/and transcription for. You can play back the recording here and follow along on the transcription tab.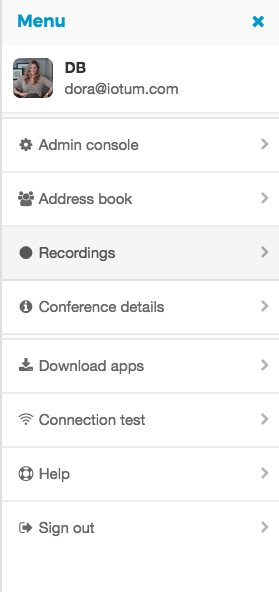 How to download the auto transcript:
In past conferences, select the conference you are interested in then, click the transcription tab, then download.
How to download recordings:
To download recordings, click the main menu in the right corner of your online dashboard and then recordings.
This will take you to a screen where all your recordings are located. Here you can:
• Get a dial-in number and access code so you can listen by phone.
• Get an online link to listen/watch the recording
• Download the recording
• Order a professional transcription of the recording
Want more?
See what plan is right for you. Compare plans >
All paid plans require no commitment or long-term contracts, you have the freedom to cancel anytime.